Taste and See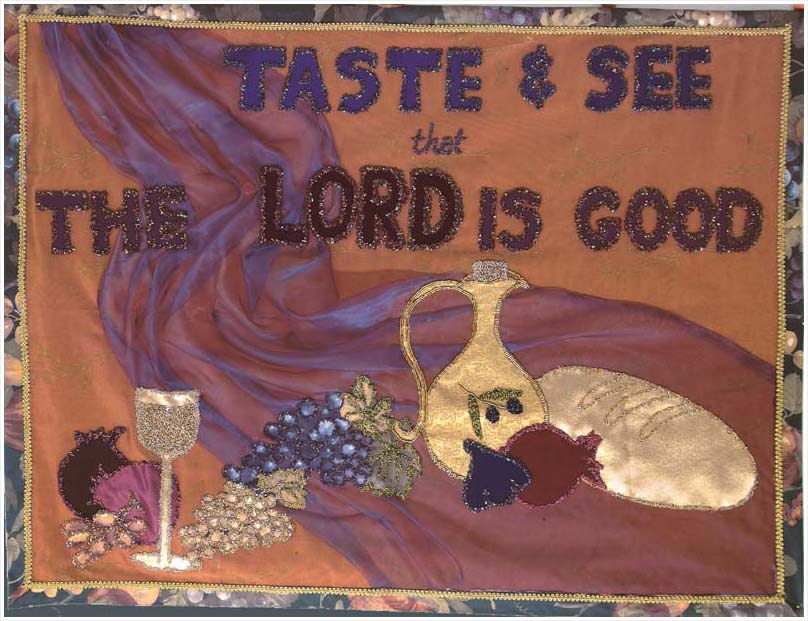 God has prepared a banquet
This banner (MADE WITH FABRICS AND RIVERS OF BEADS) depicts the mighty river of blessing and provision the Lord is pouring out on Mount Zion for all the peoples of the earth, because He wants them to taste and see that He is good. God is wanting the lost to not only hear the good news of God's love, but to actually have a personal experience for themselves of His character, which is 'goodness'. 'Christ in us' is the menu of the day and the world is desperate to be fed with the True Bread of Heaven.
This is what you were born for, this is your destiny – to be part of a mature, anointed portable feast, straight from the kitchens of Heaven, for the peoples of the earth. The restaurant is Mount Zion and the menu is a manifestation of Jesus Christ in love and power. No longer will the Church be barren and unfruitful, religious and lifeless. The fast He has chosen is for us to serve the feast He has prepared for all peoples. The dinner bell has rung and Mount Zion and the Church of the First-Born invite the hungry and the poor and the broken to come and feast on a meal that is without cost. The lame shall walk; the blind shall see; the deaf shall hear and the oppressed shall be set free – Let the feast begin! Copyright – Fresh Oil Releases 2005
DOWNLOAD FREE PRINT
'I AM ANOINTED WITH FRESH OIL' ~ PS 92:10
If the Spirit leads you to sow a blessing after reading this blog, please click HERE.
If you would like to email me directly for whatever reason you can do so by emailing me at freshoil@polka.co.za.
BLOG STATS