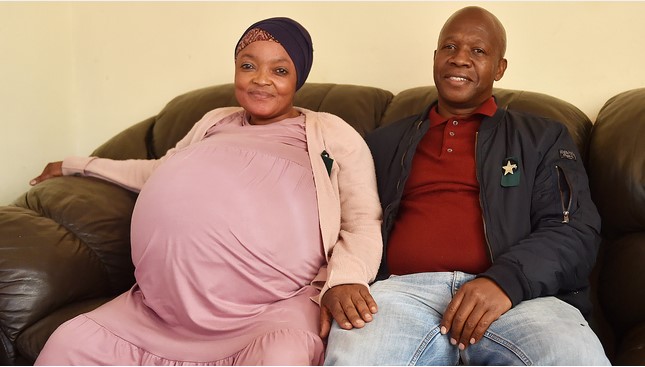 2nd Update Oct 29th 2021
Well, this story just doesn't go away!! I originally received and shared a word after it was reported that 10 babies had been born in South Africa in a single birth. Shortly thereafter it was reported to be a hoax and I apologized and retracted the word - as you will see below. However, today, a newspaper report appeared declaring that it had indeed happened and that horrific things had happened and been covered up. You can read the report right here of the trafficking of those poor babies right after birth. It just made me weep!
https://www.iol.co.za/news/south-africa/tembisa-10-report-reveals-decuplets-were-trafficked-c494b29b-2c69-4f05-b583-ce6f1d88ebd1
I can find no record of the word I received because I so thoroughly scrubbed it from my site and my own laptop (very thorough repentance LOL). However, I did subsequently release a sanitized version of the word (separating the precious from what I had been informed was the vile in the content). You can read that word here:
Obviously, the enemy did not want that whole word to be heard but it has been brought strongly to the forefront with these horrendous uncoverings of crimes on a vast scale. This is why I am pinning this message to the top of my site, AS WELL AS THE CONNECTED MESSAGE. IT IS THAT IMPORTANT!!
THE LORD IS HIGHLIGHTING THE FACT THAT
THE NIGHT OF TRIAL IS NOT COMING - IT IS RIGHT HERE!
The mother of those children has been through a horrific night of trial; accused of insanity for acknowledging the truth and imprisoned in a mental asylum against her will to date, having her babies stolen and authority figures deceiving her over and over. May God almighty move His hand on her behalf and give her recompense.
PLEASE TAKE THE TIME TO READ THE 'WINNOWED NIGHT OF TRIAL'
and if anyone has a copy of that original word including the events of the birth, I would love to read what was originally said. please email it to me at freshoil@polka.co.za
Previous UPDATE AND RETRACTION
It was announced in today's local newspaper that there are in fact no miracle babies and that the father in this story was given the 'news' of the so-called birth via cellphone from his girlfriend, who has since become very elusive. He himself has not seen these babies and cannot reach his girlfriend and so it seems that the world at large have been the victims of a hoax on a grand scale! Either that or we are dealing with a case of mental illness as a missing person's report was filed but she apparently later appeared at a hospital asking to see her babies. The total facts about the story have yet to be ascertained but suffice to say there are no babies.
So I want to announce publicly that I heard incorrectly and read into the story – obviously it was not the Holy Spirit, but my own tendency to see patterns and types that produced this blog post. Please accept my humble apologies. This has been a huge lesson for me in making sure that what I am hearing is from the Lord!
I am removing the post to prevent anyone else thinking that this was in fact the Lord speaking.